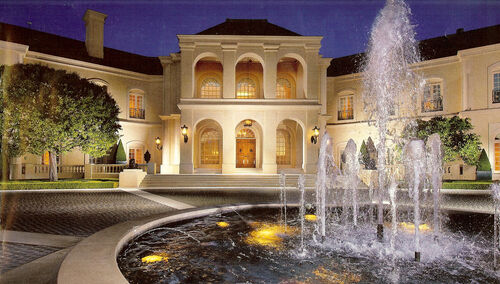 The Entrance is the only way known to access the mansion, as the place is protected by anti-apparition magic. Walking up the slope, aromatic bluebonnet and various other blue flowers could be found along the Bluebonnet Road. The black metal gates are usually open, but people are advised to send the family prior notice before entering. After all, this group of Breckenridges come from a line of Aurors - who knows what are prepared for the intruders.
Entering the manor through the gates, you still have to walk up the stairs and along the bluestone-paved roads for a minute before reaching the doors of the mansion. Some people may find it troublesome, but the stunning scenery around definitely makes the walk enjoyable. In front of the house stands a beautifully carved fountain. The whole mansion looks even more magnificent at night.
Ad blocker interference detected!
Wikia is a free-to-use site that makes money from advertising. We have a modified experience for viewers using ad blockers

Wikia is not accessible if you've made further modifications. Remove the custom ad blocker rule(s) and the page will load as expected.