WIP
Kinzie
(This character was created by
Jayjay
)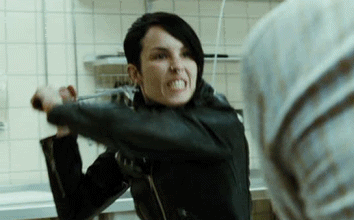 Kinzie


"Sometimes you have to cross the line to remember where it lies."
General Information
Birth date
November 17th
Birth place
Washington, DC
Ethnicity
American
Accent
American
Blood status
Muggle born
Physical Characteristics
Species
Human/Witch (Half-Veela)
Gender
Female
Hair Color
Black
Eye Color
Brown
Height
6'
Weight
147 lbs
Magical Characteristics
Wand
{{{wand}}}
Wand Arm
Left
Patronus
Dragon
Boggart
Herself
Amortentia
Sea Breeze
Affiliation
Loyalty
Her family and friends--and she doesn't care who knows it
School
Salem Witches Institute
House
Occupation
Teacher
History
Full Name: Kinzie Grey
Pronunciation: Ken-zee Gray
Meaning: The Fair One Undefined
Nickname(s): Savage
Ethnicity:American
Native Language:English
Languages Spoken: English, French, Chinese, Japanese
Accent: American
Type of Childhood: Hectic
Earliest Memory: Nightmares
Pet: none
Likes: Martial magic, martial arts, kittehs Dislikes: Potions
Handedness: Left
Clothing Style: Bad@$$ Zodiac Sign: Scorpio
Birthstone: Topaz
Birth flower: Chrysanthemum
Favorite Scent: Chocolate Chip cookies
Favorite Drink: Coffee
Favorite Sweet: Her sister's chocolate chip cookies
Kinzie grew up in DC, but...it wasn't the most happy childhood. She was smart, athletic, magical, just like her sister, but...she was also a rebel. Tattoos, piercings, hanging out with the outcasts...they were all good people, just...emo. But the worst thing...girls. Her parents were of the religios sort, and...they were against homosexuality like the ocean is against the sea floor. Her mother wasn't so bad, but...her father was the devil. He abused her.
Or tried to. Kinzie's older sister, Sarah, the good girl, often intervened and took the strikes.
At school, Kinzie didn't change. She got in trouble a lot, generally for minor things, but...well, she was still almost expelled six times. She rarely uses her surname, Grey (yes, she is Max Grey's aunt), simply because her sister is the only person who hasn't forsaken her. After her sister "died", she just stopped using the name altogether.
high mental abilities in family
parents attained high social status
parents motivated, gave direction
parents rose & accomplished
(inheritance) physical attributes are fine
(had) previous success (in school, work, family life)
prosperity in family upbringing
When and where was your character born?
DC, 18 years ago
What age did your character first use magic?
Max was seven
Did your character grow up in a muggle or wizarding neighborhood, village, or town?
Kinzie grew up in a muggle area with her sister, Sarah, and their parents.
PersonalityEdit
adventurous
substance-free
alert
aware of opportunities
clean
comprehends
conscious
creative
deliberative
develops mental capabilities
disciplined
efficient
effort achieves results
energetic
envisions the unseen
experienced (in area)
focused
good
health robust, strong constitution
idea-driven
imaginative
initiates (has initiative)
innovative
insightful
intelligent
knowledgeable
leads others
lives from the depths of life
motivated
nerves strong
objective
observant
physical stamina
previous success in school
resourceful
responsible
results-oriented
risk-taker
seeks improvement
spiritual, inner connection
stamina
strong; physically
strong; psychologically
(has had) supportive family or friends
tough
trustworthy
work is in harmony with personal life
never has enough time
unlucky
disorganized
impatient, expectant
impolite, ill mannered, rude
relationship with other(s) negative
irresponsible
seeing only parts of the picture
ill behaved
tries to do everything
reckless
reconciling problems, conflicts at higher level
time management skills, lack of
technical work skills, lack of
Possessions/SpellsEdit
Umbram Evanui
evanui clarum custos
Ad blocker interference detected!
Wikia is a free-to-use site that makes money from advertising. We have a modified experience for viewers using ad blockers

Wikia is not accessible if you've made further modifications. Remove the custom ad blocker rule(s) and the page will load as expected.